In Kenya there are two types of Zebra. They have the type with the pointed ears, that most people are familiar with. However, if you look closely the Zebras in this photo have rounded ears like a teddy bear!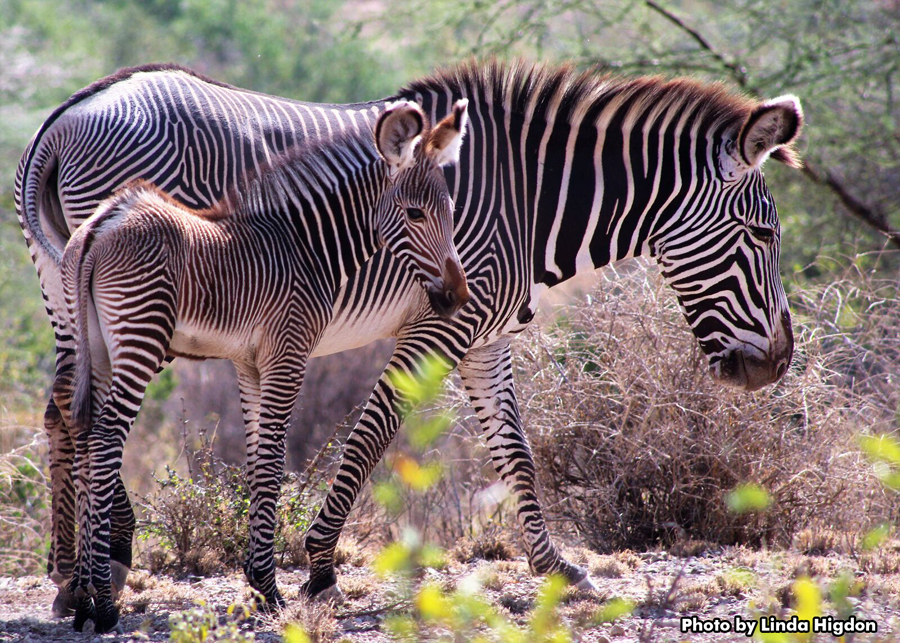 Reasons to Visit Kenya
I found my global heart in Kenya with eight other women. We came together as a group of American women who met in Nairobi to visit with women in Kenya and learn about their lives. "Beauty in the unexpected" was how our leader, Linda Higdon of Global Heart Journeys, described the trip. And she was right.
I found beauty in the markets of colorful fruits, vegetables, baskets, and homemade crafts sold by women wearing dresses, jackets, and scarves in rich colors and patterns, from under shaded canopies. Everywhere we went the Kenyan woman were dressed "smart"—the word used by a lovely young college student to contrast the attire of her countrywomen with the casual dress of us, the visitors.
I found beauty in the countryside. The savannah landscape and forest in the shadow of Mt. Kenya was green and captivating as we drove along the speed bump-ridden highway that circled around Mt. Kenya. The lush and verdant tea farms rolled endlessly in the highlands of the mountain. The maze of farms was surrounded by modest homes and trees offering respite from the sun beating down on crops that were reaching skyward as if looking for the next rain. The sandy scrub and acacia trees of the arid desert in Samburu National Reserve hid the giraffes, zebras, and elephants lurking among the palms and fig trees near the river.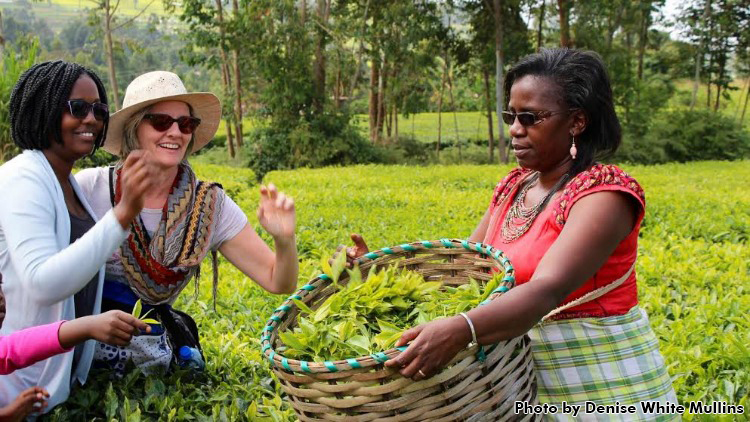 Picking tea with women farmers in the tea fields on the beautiful slopes of Mt. Kenya
I found beauty in the children we met: children who were either born into difficult circumstances or catapulted there by the cruel fate of poverty, distance from potable water, drought, HIV, or domestic violence. When life's circumstances have a name and a face and a heart open to kindness, you feel as if you are looking into the face of hope. One place we visited was the Tumaini Center. Tumaini means "hope" in Swahili. The joy and playfulness of these children was no different than the joy I have witnessed countless times in my own neighborhood, my church, my children's school, or my girl scout troops. There was so much laughter.
I found beauty in the women. Unexpected and irrepressible beauty. Each day we would leave the safe haven of our hotels (the beautiful Fairview in Nairobi and the inviting and modern Alba in Meru) and head out to meet the women who form the backbone of this country.
The women emanated courage and strength. As we talked, ate, cooked, laughed, danced, and sang with these caregivers, farmers, teachers, activists, weavers, sisters, mothers, and daughters, we experienced firsthand the power of community and its ability to lift up and carry any person who dares step into its midst.
These women are rooted in their Kenyan culture that emphasizes community and tribe while committed to taking steps to untether themselves from the traditions that do not uplift and support women and girls. They are committed to working together as a tribe to surmount the challenges brought to them by weather, disease, and population.
I live forever changed because Kenya and its unexpected beauty reminded me of my ability to, along with my tribe, impact the lives around me. It also showed me that the warm and embracing people of Kenya – no matter how far away in geography or culture – are also part of my tribe.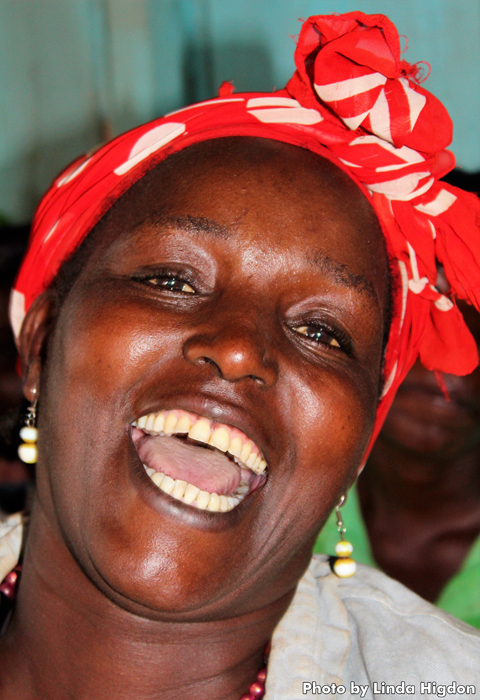 The joy is overflowing. Even though these women farmers have challenging lives (walking up to 5 miles a day to fetch water) they welcomed us with open arms and loving hearts.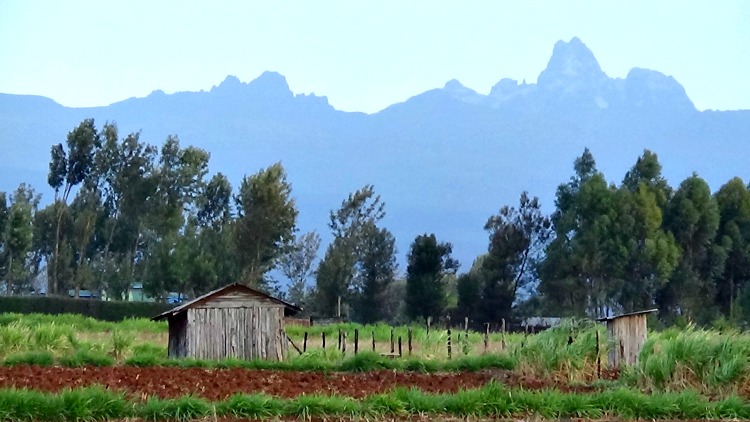 A magnificent view of Mt. Kenya as we drove through the rural landscapes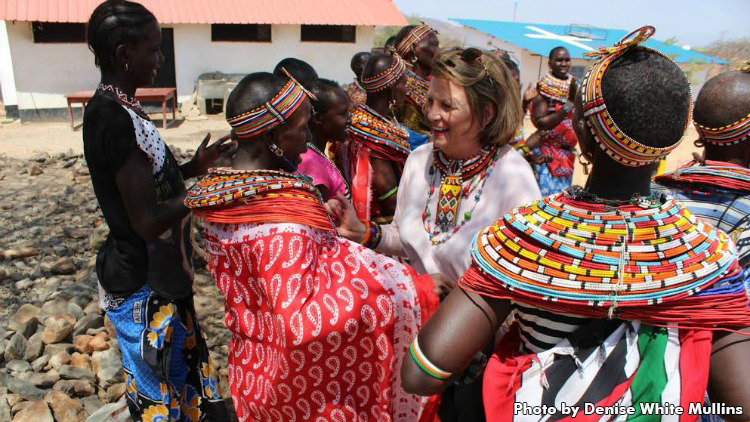 Linda Higdon, the founder and guide of this journey, is greeted by the beautiful Samburu women, known
as the "Butterfly Women"